Regeneration
WANDERING STARS VOLUME 4
---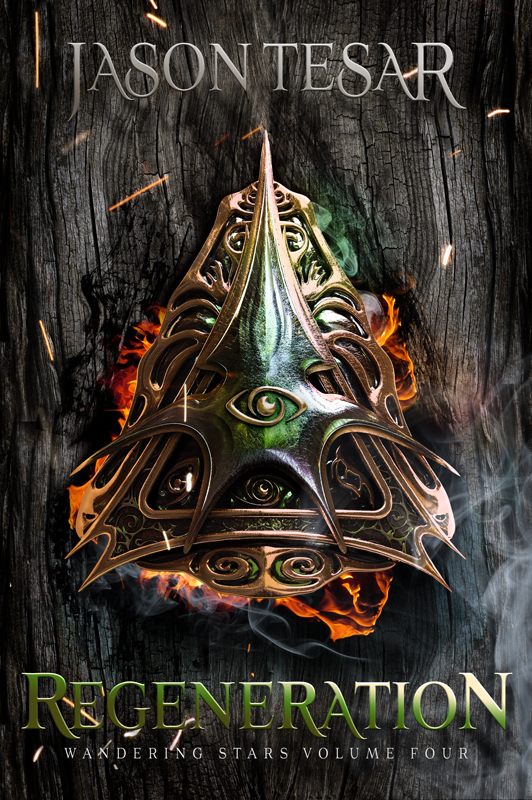 The Temporal Realm is fragmented. It exists now as three worlds moving in parallel through time, sharing a common history, connected by a mysterious portal.
In the aftermath of a cataclysmic flood, Sariel wanders the desolate earths, searching for signs of life. The process of regeneration has led each world in a different direction, but Sariel uncovers their unique dangers and the sinister unity that binds them together. The gods are looking to the future, exploiting their temporal advantage to influence the war in the Eternal Realm. At the center of their efforts are the fragile remnants of humanity. Sariel, inspired by the words of an old friend and driven by his loyalty for a new one, will risk everything he has left in hopes of saving mankind.
In Volume Four of the Wandering Stars, Jason Tesar's fantasy epic draws to a close. With the prehistoric age of gods and monsters fading from human experience, a new era of myths and legends is born. An ancient prophecy is unveiled, bringing the story to a violent conclusion and setting the stage for the coming of The Awakened.
Amazon
Best ending to a book series since Harry Potter … I highly recommend that everyone read this series and all works that Tesar comes out with in the future. He is an underappreciated author that I hope one day gets recognized for his brilliance.asdf
Jason Tesar has masterfully woven the story of the "Wandering Stars" to the beginning of "The Awakened."Justice
Just like the rest of the series, once you pick it up you wont be able to put it down.Paul D.
I can barely think of another book that was such a page turner.Lighthouse Family
All I can say is – thank you Jason for giving Sariel his rightful story.RMD
It's not completely Jason's fault, but I now struggle to read anything other than his work. I often find myself downloading a book then tossing it aside before I even manage to get half way through it. Most books seem lackluster and unimaginative by these standards. It's probably not fair to the other authors, as their work is still quite good, but it just doesn't stack up and always seems to be missing something. I'm just waiting for the day when Jason's stories are turned into a TV series or movie collection.Simafication
---
READER RESOURCES
Map of First Earth Civilizations
Glossary and Pronunciation Guide
---
FREE PREVIEW