Manifestation
WANDERING STARS VOLUME 2
---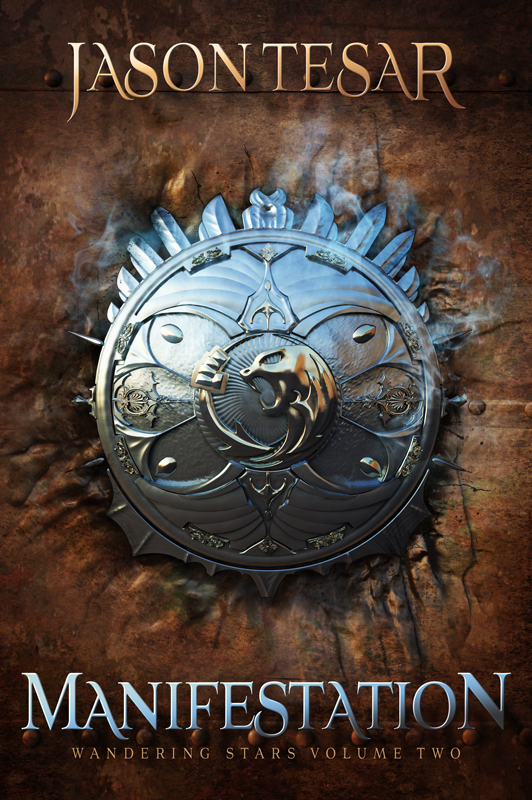 Captivity has left its wounds, and the peace that Sariel fought to obtain is slipping from his grasp. To answer the questions plaguing his mind, he must seek out his former allies. But what he discovers is a task left undone, a coalition standing in his way, and revenge far beyond his new limitations.
The gods are dividing the earth into kingdoms. As they build an alliance upon a foundation of shared resources, a new evil is manifesting—rising from the aftermath of their rebellion. It has the power to upset their fragile equilibrium and cover the earth in darkness. With enemies on every side, Sariel must weigh the cost of a promise against the value of his own life, leading him to an unthinkable decision.
The battle for independence from the Eternal Realm may be over, but the war for the Temporal Realm has just begun.
In volume two of the Wandering Stars series, Jason Tesar's fantasy epic spreads across a prehistoric landscape in a clash of civilizations that will alter the course of human history and give rise to mankind's oldest legends.
Amazon
I found myself immersed in a world that rivals Tolkien's Middle Earth … It's not often that a book makes you want to break down in tears and/or jump for joy but Enoch's story (and even Sariel's) does exactly that achieving both at times …Simafication
I cannot say enough about the awesomeness of Jason Tesar's creative mind! Religious, sci-fi, epic adventure all rolled up together!PNYXPS
Tesar continues his exceptional writing with this book. In all of Jason's books he writes with such purpose and clarity, but this one exceeds all of his previous works. His descriptions are so vivid and allow you to truly feel what his characters are going through.asdf
There are not many books out there that aren't predictable, this was one of them. It was engaging and moving, it came alive …Lighthouse Family
I have never been a big reader except what I had too in High School, Jason Tesar has "Awakened" me to a love for reading!!Dave
---
READER RESOURCES
Map of Human, Angelic, and Nephiyl Civilizations
Glossary and Pronunciation Guide
---
FREE PREVIEW